Ubuntu
<!BOOK>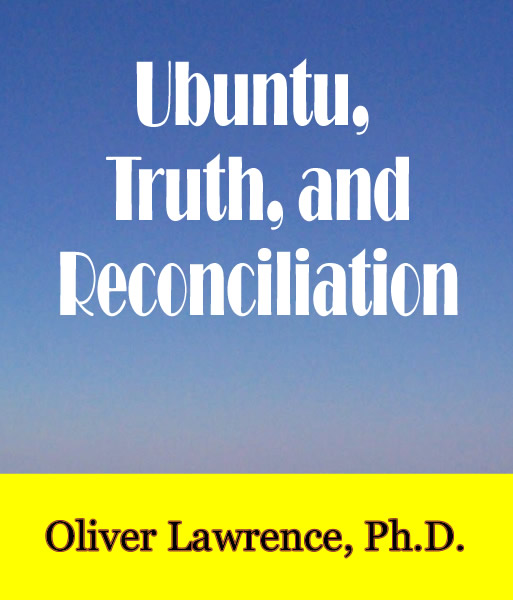 Ubuntu, Truth and Reconciliation Ubuntu is a Zulu word meaning "humanness." Ubuntu is a social and spiritual philosophy serving as a framework for African society. Its meaning is conveyed using the Zulu maxim "Umuntu ngumuntu ngabantu" meaning "a person is a person through other persons." In Botswana the word is 'Botho' and in Malawi it is called 'uMunthu' so the idea is not restricted to national boundaries but is what makes Africans a family. Ubuntu is imbued in the nature of the South African population and is manifest in the approach to conflict. Ubuntu is a South African term that according to Archbishop Desmond Tutu is very difficult to define for Westerners. Some would describe it with the sentiment that "I am who I am because you are who you are." In another sense "I am who I am because you let me be who I am and you are who you are because I let you be who you are." There is a symbiotic relationship with a reciprocal effect that you and I have on each other. One is not more important than the other; we are of equal importance in each other's lives. Imagine that because I take a certain space in the world it affects the space you are taking up and vice versa. We have to allow each other the space each takes up and at the same time it is because you take up a space in my world that it affects and changes my world. This fact of sharing space becomes more important than what you do or what I do. Our relationship exists because we are. If we extend the concept of Ubuntu to other animate and even to inanimate objects then we have a symbiotic relationship with all that creates our world and we create their world by being in it. The tree and the sunset need me to exist in this world as much as I need the tree and the sunset. We affect each other; we need each other. Because of the importance each has to the other we must appreciate one another. In Western thought we could say that we are a family; we depend on each other; we need one another; we must appreciate each other. If the cobbler did not cobble I would be without shoes; if the bricklayer did not lay bricks I would be without shelter; if the farmer did not farm I would be without food. We depend on each other no matter who the other is. The major difference between Western and African dependence and appreciation is that Africans will value and appreciate the homeless person for being a person and thereby allowing us to be persons too; a Western mind may not be as appreciative of persons who do not produce direct services of value; an African mind can appreciate human value without being provided direct proof of human value. In Africa every older person is my mother, my father, my uncle or my aunt. My peers are my brothers, sisters, and cousins. And all children are my children. This is a direct result of Ubuntu in action. In a sense Ubuntu is like a religion even though it is a philosophy of living. It requires no proof of value; Ubuntu provides intrinsic proof of value simply by being. It can be compared to the Christian view of grace of God, provided freely, not earned but freely given.
When I describe Ubuntu to students I use examples that might help them understand the nuanced meaning. I ask them what they would do if they encounter a stray cat stopping by their homes. The quickest and most general response is to provide the cat with saucer of milk. This is probably because we recognize that a cat might need something to drink and serving milk on a saucer is how we would provide that needed drink. I point out that we recognize the cat and its need simply because it is a cat. It does not have to tell us that it is thirsty or that it likes milk or that it might find a saucer more accessible than a cup.
I then point out that Ubuntu recognizes a person's personhood. If you enter a village anywhere in the world indigenous people will offer you a glass of water because they know humans need water regularly. If they recognize the stranger as an American they might offer a Coke or Pepsi. This is the essence of Ubuntu -recognition of your humanity and recognition of what humans need.
I also share that in the Bible when Mary and Joseph arrive at the inn they are told there is no room and they are directed to the barn where Jesus is born. I point out that in Africa Mary would be recognized as a human pregnant woman and would not be directed to the barn that is reserved for animals. Sending a human to the barn would be an act that does not recognize humanness or does not regard any special human treatment. We in the west expect that the poor ask for food or drink, while Ubuntu would not require that a human makes a human need request but deserves our humane treatment simply by being recognized as a person.