The Community Organizing Series
<!BOOK>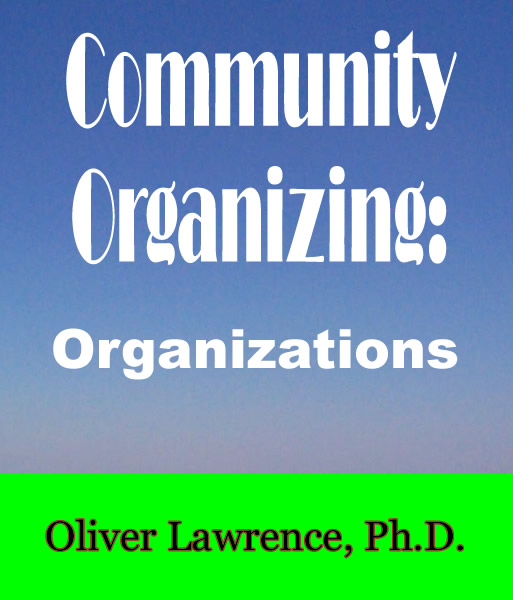 Community Organizing - Organizations
The Community Organizing Series is based on many years of direct community organizing experience and teaching college level courses. The series covers the major issues required in a format of a series of handbooks. This guide has been developed to empower ordinary people, volunteers, organizers and activists. This draws on some common experiences, ideas and enables people to be better equipped to organize. This guide focuses on three issues: the organization, the people, and the sources of their power. The organizations develop from street committee to mass movement, sustainable nonprofit, and can grow to corporate standards. In the process the leadership and the policies can change the flavor of the organization itself.
True community organizing is based on concepts such as ethical human standards, moral community standards and the best meanings of terms such as democracy and empowerment. Too many terms, including the word 'peace' have been corrupted by self-serving interests that twist truth and veracity to suit special interests to such an extent that an ordinary conversation cannot be trusted with sincerity. It has become almost a mandated mantra to always confirm a definition of each usage.
For instance if someone claims a common good, it is not unusual to ask for a definition of which common good and what is the criteria for determining what is good. Usually seekers of common good seek the good for the common elite who are seeking it and not the common good of the poor who those who can have the time to discuss cannot relate to.
In order to make sense of community organizing or any other activity for that matter one has to understand the end goal. The end goal may not be clearly defined in most instances which results in a swerving strategy of constant winning small steps but not clearly identifying the final stage. What results in such actions are a series of victories and losses and weariness even while the act of organizing in itself may be energizing. In many cases the journey becomes the goal, the constant acts of striving and achieving becomes a lifelong cycle. In most cases community organizing is engaged in to create community organizations. Building structures can be a tangible goal since it is a lasting legacy for others to join in and build upon. The section on ORGANIZATIONS identify different kinds of organizations and their lifecycles in order to provide guidance in evaluating and choosing strategies that provide adequate solutions to community problems. In many cases community struggles result in strong community organizations but they can be diverted to serve special interests and become publicized or even corporate. Understanding these dynamics are essential from the outset so that the effort of building a community structure is not a vain effort of building yet another organization that divides community into classes of privilege through membership.
| | | |
| --- | --- | --- |
| | | Community Organizing. Take this course online to learn community organizing strategies. A certificate is obtainable for a successful supervised campaign. |